[Admin] God Maya
Administrador

GLOBAL TIBIAFACE  V.25 Protocolo 10.93 mapa.otb update (10.91)
fixes leer:



Fixe offlinetraining 100%

Fixe shrineteleport  100%

Fixe Exp Stage  100%

Fixe Playerdeath 100%

fixe total quest con mision 100%

fixe spells exevo gran mas tera al 100%

fixe debug al 100%

fixe yasir

fixe oramond

Addon y mounts: fixe 10.90

Fixe Paralyze rune

Fixe droploot

Fixe Npc Boat

Fixe Spaw

fixe change gold

fixe alls npc 100%

fixe staminaSystem 100%

Fixe cast 100%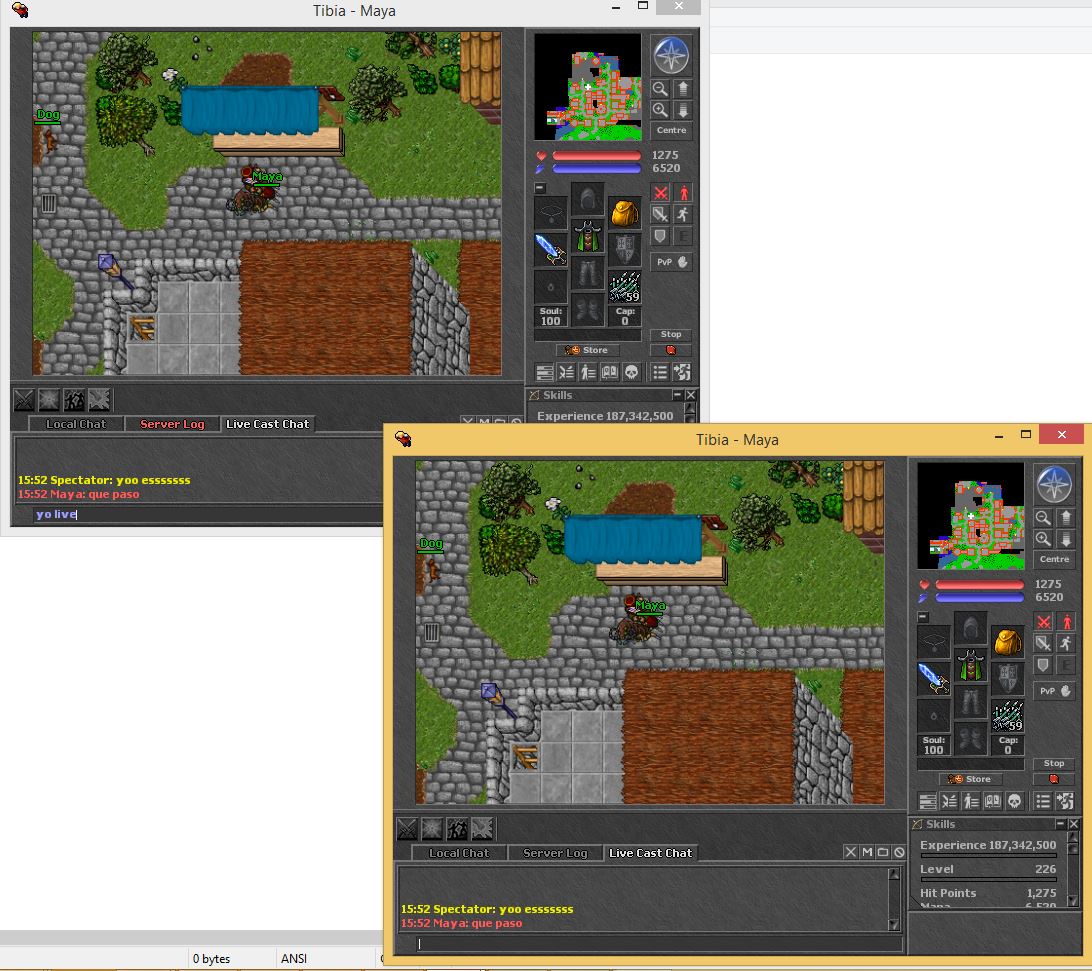 cast system config.lua
Código:


enableLiveCasting = true
liveCastPort = 7173
Reward Chest añadida ya a los moustros no necesitan configurar nadaNEW Rookgaard + tutorial system identico tibia Cipsoft
NEW Ab'Dendriel!
NEW Venore!
NEW DERFIA!
NEW Roshamuul!
ORAMOND  10.76 100%
Krailos 100%
ferumbras QUet 100%
Todas las ciudades, incluyendo Zao, Gray Beach y Base Gnome!
Todos los NPCs + NPCs de Oramond
100% misiones com misiones: Annihilator, Demon Helmet, Pits of Inferno, The Inquisition Quest, el servicio de Yalahar, Isle of Evil, The Djinn War, The Ancient Tombs, Desafio de Dreamer, Bright Sword, la busqueda Unnatural Selection, Banshee Quest, demon Oak, Svargrond Arena y mucho mas!
Razachai & Quirefang.
Warzones gnomos!
100% Boats, Tapetes e etc!
entrenamiento Offline!
Tame Sistema!
Kazordoon Sistema vagones!
Sistema de banco!
warsystem 100%
npc de addon: no actualizado
tame sistem!: no actualizado
mount.xml fue actualizada completa con las mounts hasta  10.93
addon.xml fue actualizado completo con los addon hasta 10.93
mapa global: sufre de algunas errores en el agua tendran que solucionar con la simple paleta de agua que no es mucho.
El npc Captain Bluebear del barco de thais los lleva a: roshamuul gray beach oramond
especiales gracias a:
hirako:  protocolo y Compilacion
Godmaya - fixe sources and events
datpack:
Absolute
Ciroc
Agradecimentos generales:
Theforgottenserver
ORTS
Ricker
XWhiteWolf
LNETWORKS SOLUTIONS
nota: si decean que los outfits no sean por quest y esten activado todos solo modifican esta linea en cada addon en el archivo xml/outfits.xml
Código:

unlocked="no"
por
Código:

unlocked="yes"

global tibiaface v.25.link
:
[Tienes que estar registrado y conectado para ver este vínculo]
link del tutorial para crear el cliente:
[Tienes que estar registrado y conectado para ver este vínculo]
base de datos OBLIGATORIA mysql v.25:
[Tienes que estar registrado y conectado para ver este vínculo]
[/color]
se les ruega a todos los usuarios que no hagan un comentario ilógico como por ejemplo (
, asdsdasdsa, 12345) porque serán baneados definitivo de la comunidad de tibiaface
y listo cualquier duda o problema reportarla


Última edición por [Admin] God Maya el Jue Mayo 26, 2016 3:58 pm, editado 1 vez